ENGLISH SITE
英語サイト
SHIMOJO Co.,LTD./CIROTEX Co.,LTD.
INTERIOR TEXTILE Made in Japan
A clothing fabric planning & production company carrying on the Japanese tradition
Founded in 1896 as a fabric planning and production company, our company celebrated its 110th anniversary in 2006. Cirotex began its operations as a country wholesaler. Currently our major operations consist of the manufacturing of interior fabrics and industrial materials. Over the years, we have also been involved with the manufacturing of fabrics used for Japanese traditional kimonos. This has made it possible to assume the introduction of the kimono culture into our interior fabric lines. The characteristics of our company stem from planning and manufacturing to fabric production carried out in our factory. In the course of one year, we produce samples of 500 original products planned by our company, and this makes it possible for us to expand our proposal-oriented business activities.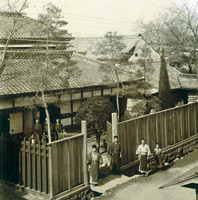 An external view of our company at its founding.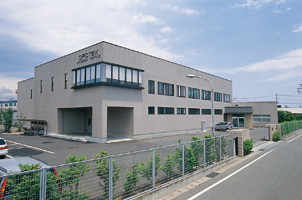 The exterior of our company today.
A proposal of manufacturing a wide range of
high quality fabrics in small quantities.
We are extremely proud of possessing the world's newest, top-of-the-line production plant and equipment. While there are a large number of companies in Japan with production volumes much higher than ours, when it comes to confronting the extremely difficult problems of manufacturing a wide range of fabrics in small lots, and dealing with the production of complicated fabrics, our quality totally belies the size of our operations and makes it possible for us to continue to provide woven fabrics capable of satisfying extremely particular Japanese consumers. Thanks to our efforts in these areas and to our ability to realize a high level of planning and production potential, we have been able to achieve an extremely high reputation for quality.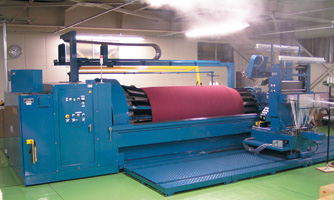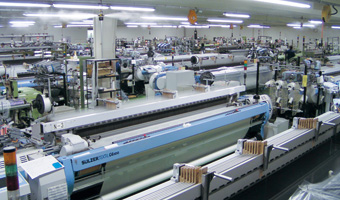 Inside the factory
Products
Yarn dyeing / piece dyeing dobby
fabric width 300 cm
production lot 100 m~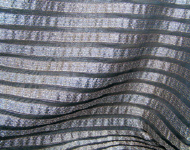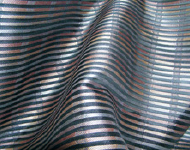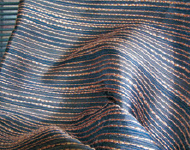 product line
Yarn dyeing, warp print
fabric width 150 cm
production lot 250 m〜
An explanation of "Meisen"
"Meisen"refers to a fabric indigenous to the world of Japanese kimonos. It is a generic term that refers to a plain fabric woven from a blend of cotton, silk and wool materials. The term has been used since the 1780s. The gara (designs) most commonly employed in "Meisen" include shimagoshi stripes (check stripe patterns) and kasuri (yarn printed fabrics) as well as hogushi (pick fabrics). (Hogushi is a method of weaving in which horizontal threads are tentatively woven into the fabric on the loom at approximately 20 cm intervals, and after the fabric has been printed, it is placed back on the loom and these tentative threads are removed and replaced with properly woven threads. This is a type of splash pattern weaving.) The most commonly used horizontal threads are double cocoon silk, silk slugs yarn or silk knot yarn. Our company's "Meisen" series is made up of traditional kimono patterns that have been used since the founding of our company, and the shimagoshi stripes (check stripe patterns) and splash pattern weaving are also employed in the fabrics used in our interior designs. In our pursuit of materials, along with the double cocoon silk, silk slugs yarn or silk knot yarn, we also use polyester to reproduce similar surface results, aesthetic properties (textures) and glossy properties. Our products made from 100% polyester can be machine laundered (with cold water, dried by hand only), and they also possess flame retarding properties (as noted in products that meet the Japan Flame Retardation Standards).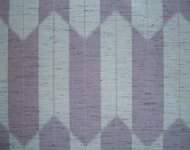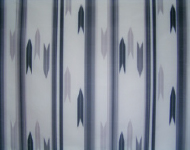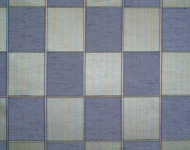 product line